The Citizens Challenge 2018
July 27, 2018 @ 7:00 pm

-

July 29, 2018 @ 8:00 pm

FREE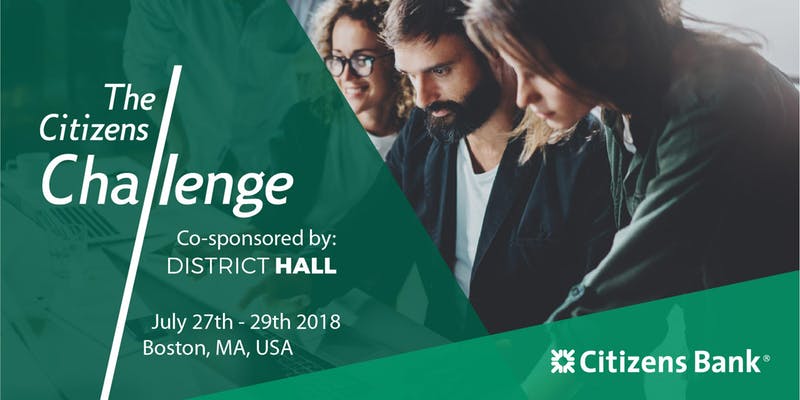 Calling all developers and future fintech entrepreneurs to join us on July 27th – 29th, 2018 at District Hall in Boston. The Challenge is offering all start-ups, students, tech enthusiasts and creative minds in the fintech industry the opportunity to develop innovative software solutions to help our customers reach their potential.
The winning team will receive $10,000 and there are other prizes to reward creative ideas! In addition, there will be networking and learning sessions with our skilled mentors who will help you build, design and pitch your idea to our panel of experts; who will share their wisdom on how to take your prototype to the next level.
Come with an idea and form a team or join a team on-site, and spend the weekend building innovative solutions based around four core challenge tracks:
Theme: 360° Engagement
Challenge: How can we consolidate all the information that we have about our customers in one place, and leverage that data to predict their next move?
Challenge: Data streams are today available from both inside the bank (CRM events, transaction history and more) and outside (global news, segment/industry data, credit scoring). How can we use these different data streams to help our customers succeed?
Theme: Liquidity Crystal Ball
Challenge: What kind of tools can we develop to help our customers understand and address their liquidity and cash-flow challenges?
Challenge: How can we better leverage predictive analytics using market data such as cash-flow and liquidity to help us reach and on-board prospective customers?
Theme: AI and Digital Engagement
Challenge: How can we best leverage AI platforms' service customers and increase our response rate and support capabilities to customers?
Challenge: How can we leverage the data that customers provide us and take this data to provide more insight into their banking functions such as spending habits and financial analytics?
Theme: Social Banking
Challenge: How can we best formulate tools to further engage customers on our platforms and provide them with services that in turn provide more insight into their daily life (i.e. Personalization in Banking)?
Challenge: What kind of interface optimizations can we develop to optimize on-boarding and verification for clients?
Get all the details and prizes here. Food and drinks will be provided, including refreshments and coffee throughout the weekend.
If you have any dietary requirements or questions about the event, please email citizenschallenge@openbankproject.com
You can follow The Citizens Challenge and share your experience on social media using the hashtag #TheCitizensChallenge
AGENDA
Day 1
7:00 pm – 8:00 pm Doors open and registration
8:00 pm – 8:30 pm Welcome address
8:30 pm – 9:00 pm Challenges and API presentation
9:00 pm – 9:30 pm Fire-pitches – bring your idea and pitch it to the crowd
9:30 pm – 10:00 pm Flea market of ideas – find a team
10:00 pm – 10:30 pm Drinks
Day 2
9:00 am – 10:00 am Doors open and breakfast
10:00 am – 10:15 am Ice breaker
10:15 am – 10:30 am Stand up: who's working on what
10:30 am – 11:30 am API workshop & UX clinic
11:30 am – 1:00 pm Finalise your concept & start hacking
1:00 pm – 2:00 pm Lunch
2:00 pm – 4:00 pm Mentor session
4:00 pm – 5:00 pm Snack time
5:00 pm – 6:00 pm Pitch training
6:00 pm – 10:00 pm Hacking & relaxation
8:00 pm – 10:00 pm Drinks
Day 3
9:00 am – 10:00 am Early bird surprise
9:00 am – 10:00 am Breakfast
10:00 am – 10:30 am Stand up: who's working on what
10:30 am – 1:00 pm 1:1 Pitch rehearsal & hacking
1:00 pm – 2:00 pm Lunch
2:00 pm – 3:00 pm Shut-down production / Delivering products
3:00 pm – 4:00 pm Practice running order
4:00 pm – 5:45 pm Demos – 3 min per pitch
5:45 pm – 6:00 pm Jury deliberation
6:00 pm – 6:30 pm Award ceremony & closing note
6:30 pm – 7:00 pm Event close and drinks
FAQs
Who owns the IP of the code I create?
All intellectual property rights in the ideas and applications of a participant shall remain owned by, and shall vest in, the participant who creates them. See Terms and Conditions for more information.
Do I have to come with a team?
No! We will help you find a great team to join.
What's the #hashtag?
What is the minimum age of a participant?
18.
Can I see something from a previous hackathon?
Sure, here's a video from a recent hackathon, which was run by the Open Bank Project in London.
What's the maximum team size?
Six individuals.
How do the travel refunds for students work?
Travel refunds are intended to help students outside Boston to cover their travel costs. Participants are responsible for arranging their own travel and accommodation. Students can apply for confirmation of eligibility here. If your request is confirmed, you can send your travel receipts up to $250 per student following the event to refund@tesobe.com where refund will be processed. Please note that the refund is limited to $250 per student and will be allocated on a first come first served basis.
Should I bring a laptop?
Yes. Even if you're not coding it's a good idea to bring some kind of internet-enabled device.
Do I have to be a coder?
No, entrepreneurs, designers and anyone with bright ideas and energy is most welcome.
What if I've never been to a hackathon?
Perfect. Come and have a great first experience!
Can we sleep over at the hackathon?
No, not this time. At some point we'll go have some drinks, get some sleep and return bright and early.
Who can I contact to learn more about the event?
Official event website: https://citizenschallenge.com/