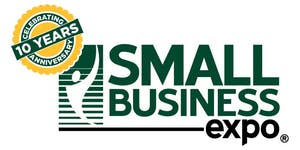 WHAT IS SMALL BUSINESS EXPO?
Small Business Expo is America's BIGGEST & most anticipated business-to-business networking event, trade show & conference for business owners, entrepreneurs, start-ups, decision-makers or anyone who works for a small business or is interested in starting a small business.  Small Business Expo is a FREE one-day event for small businesses to network, build new business relationships, attend cutting-edge and business-building workshops/seminars, exchange ideas, shop for new vendors and learn from leading industry experts. If you are serious about growing or starting your business, Small Business Expo is a "MUST ATTEND" event for you.
WHAT IS THE COST TO ATTEND?
It's FREE TO ATTEND!

There are other upgraded premium badges that include items like our Reserved Seating, Lead Scanner & Happy Hour Open Bar (see below Badge Chart).
If you prefer to Sponsor or Exhibit at Small Business Expo, please call us at 212.404.2345 or VISIT OUR EXHIBITOR INFO PAGE.
WHY ATTEND?
Network with thousands of businesses, entrepreneurs & start-ups

Attend 25+ Business workshops & seminars to help your business grow

Fast-paced speed-networking sessions to make new contacts quickly

Learn about new cutting-edge products and services

Establish hundreds of new & valuable contacts

Interact with the movers and shakers of your industry.

Leave the show with hundreds of qualified sales leads
WHO CAN ATTEND?
YOUR BADGE OPTIONS: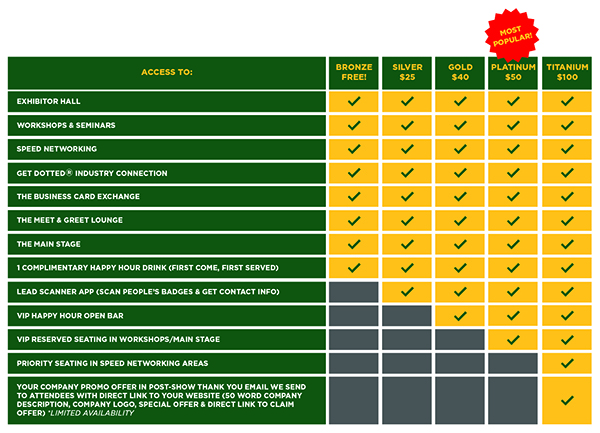 WANT TO EXHIBIT YOUR PRODUCT/SERVICE & GET SALES LEADS?
If your product/service targets business owners, exhibiting at this show is a must. Business owners attend Small Business Expo to shop for innovative products & services that will help their business grow. Nowhere else can you reach thousands of business owners and make on-the-spot sales in one day!
For more info, call us at 212.404.2345 or VISIT OUR EXHIBITOR INFO PAGE.